Nelson G. Woo D.M.D
Dr. Nelson Woo was born in Augusta, GA to Eugene and Lynne Woo as one of five children. He grew up as the middle child with three brothers and a sister, moving on to study at the University of Georgia and graduating with a bachelor's degree in Biology from Augusta State University in 1993. From there, he attended the Medical College of Georgia and achieved his certification as a nuclear medicine technologist in 1996. After completing the nuclear medicine technologist certification, Dr. Woo started dental school, graduating with a Doctor of Dental Medicine degree in 2000.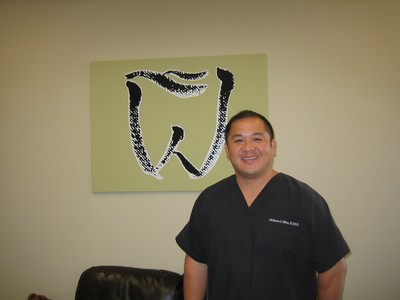 Upon graduating, Dr. Woo practiced with his cousin, Dr. Grant Loo, in Augusta for a year before moving to Atlanta. He practiced in several offices before deciding to start his own independent practice in 2006. Over the ten years that Dr. Woo practiced as a General Dentist, he had the opportunity to treat many patients with root canal therapy. During this time, he discovered that he enjoys performing root canal therapy and wanted to learn how to treat the more complex cases that many patients have. In 2010, he was accepted to the endodontic residency program at the University of Alabama at Birmingham and obtained his certificate in endodontics in June of 2012. After he passed the written part of the national boards, he became board eligible. While only 21% of endodontists have gone through this rigorous process, Dr. Woo always enjoys taking as much continuing education as possible for both endodontics and general dentistry in order to keep up with the latest technology and advancements in the field.
In his spare time, Dr. Woo enjoys nearly anything outdoors. He was very involved with tennis and played in the ALTA (Atlanta Lawn and Tennis Association) until he had shoulder surgery, which has limited his playing time. He also enjoys fishing, crabbing, and kayaking, and is a University of Georgia football fan. Dr. Woo currently resides in Marietta, GA, with his wife Michelle and children.